Renegar Joins RMS Staff as Principal
by EvaLynn Hammer with M. Kitts, Dan the Meme Man, Lauren Upham, Jocelyn Flores, and Ophelia Davis
Hang on for a minute...we're trying to find some more stories you might like.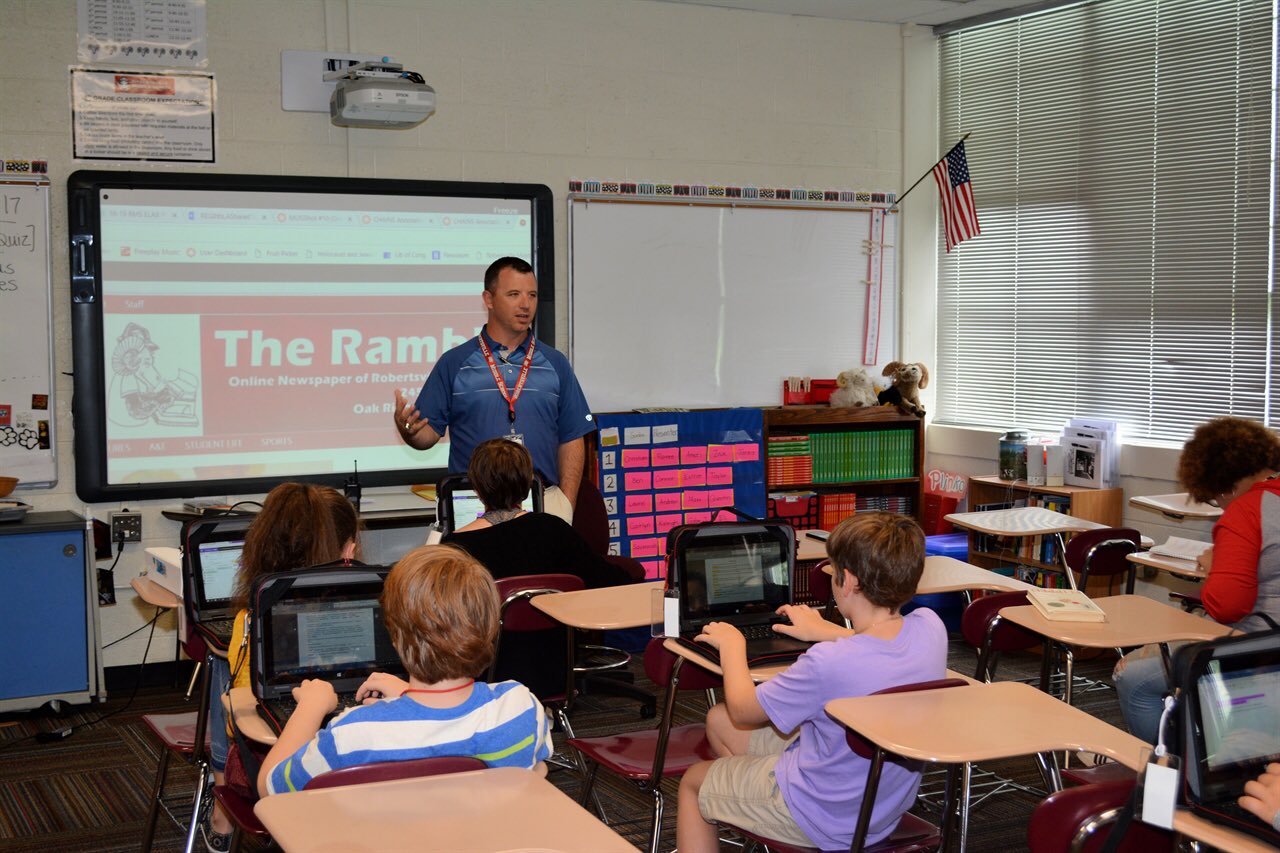 Dr. Kirk Renegar joined the staff at Robertsville Middle School as the new principal for the 2018-2019 school year.
With this change in leadership, students have noticed a change in some school policies. The RMS Rambler Staff, comprised of Julie Kinder-McMillan's eighth grade journalism and creative writing class, recently had the opportunity to interview Renegar to pose questions about these changes as well as about his opinions and personal life.
The new traffic pattern is one of the more visible changes this year. Dr. Renegar explained how he felt the previous system was not safe. The students were not adequately supervised, and the buses were getting stuck in traffic.
Another new feature at Robertsville is the new RamPerks drawing. According to Renegar, there are "way more students making great choices than students making poor choices. We want to reward you by providing incentives for (good behavior). That's what RamPerks is all about."
The new Ram Rules school wide discipline system is another addition. Over the summer, Renegar worked with a committee of teachers representing all areas of the school to create the Ram Rules plan. Renegar attributes many of these changes to the high number of disciplinary referrals during the last school year. He said he took a cue from the student body when reading the complaints from students about disruptive behavior in the classroom on last year's school climate survey.
"If we do not have order and structure and we do not have discipline, it is difficult to provide you with an exemplary learning environment," he said.
According to Renegar, one other way to structure this environment is an adherence to a dress code.
"I do think there needs to be a standard of dress for any situation whether you are in school or whether you are in the workforce, or wherever you are," he said. "I think there is a level of dress that is appropriate. When I come to work, I want to model professional dress for you because ultimately I want to be able to show you what that looks like."
Even with a dress code, Dr. Renegar still wants students to express themselves and their individuality.
"You deserve the right to be who you are," he said. "I think it's really important in building a positive school culture to celebrate the things that you guys are doing right."
Structure aside, Dr. Renegar believes success in the classroom boils down to instruction.
"The whole experience is based around what is taking place in the classroom," he said. "You can't buy enough computers, you can't buy enough programs, you can't discipline your way into good quality instruction."
Renegar began his career teaching middle school social studies and previously coached baseball at Hardin Valley Academy in Knoxville. Immediately prior to coming to RMS, he served as principal at Hardin Reynolds Memorial School in Critz, Virginia. His desire to relocate from his hometown area in Virginia to Oak Ridge was in part due to what he describes as the "incredible reputation of this school district." He believes what makes RMS special are the unique community partnerships which can't be replicated.
"Not everyone gets to experience what you're experiencing," he said. "The interaction that takes place between the teachers and the students, and the magic that takes place between student to student interactions and the learning that is involved… that's the most important thing."
Rambler reporters took the opportunity to ask Renegar some questions about his personal life. He and his wife have a daughter and son who now attend Linden Elementary School. His daughter's name is Eilidh Ruth. She is in Kindergarten and loves to dance. His son Whit is in third grade and loves sports. At the top of Renegar's own bucket list is a trip to the World Series.
If Renegar could be any superhero, he would be Superman and use his super powers to tackle bullying, his number one pet peeve.
"Bullying hits home," he said. "Bullying is all about insecurity on the part of the bully. To me, if you have to make yourself feel better about who you are by making someone feel worse, then I think that you have some inherent problems that need to be dealt with."
Besides bullying, another of his pet peeves is being late. He stated, "I freak out when I'm late, and I don't want to be the reason someone else is wasting their time." This explains why the principal is almost always on time; even so, time management is among his biggest challenges as a busy administrator. After a long week of being "pulled in a lot of different directions," students might find Dr. Renegar enjoying Chick-fil-A chicken nuggets with Polynesian sauce before playing a round of golf. Come Monday, he will eagerly return to the halls of RMS.
Rambler reporters saw a completely different side of Renegar upon interviewing him.
"Before, I thought he looked like a perfectionist, like he had to have things his own way," noted reporter Lily Yassu, an eighth grader new to Robertsville. "He seemed very strict and wanted direct eye contact. However, when we interviewed him, I realized that he wasn't so serious. He was very funny and had a good personality. I asked him a few questions, and he answered them with truth."
Another Rambler staffer, eighth grader Halie Campbell agreed. "I think he is very nice. He is very open to listening to what students have to say. I think he will be a good principal for RMS."
In the end, "I want to be able to impact as many people as possible," Renegar said. "I don't know that there's a better job in the world than being able to reach and potentially improve the lives of young people."